Canceled – Barn Quilt Painting Class
April 18, 2020 @ 11:00 am

-

3:00 pm

$50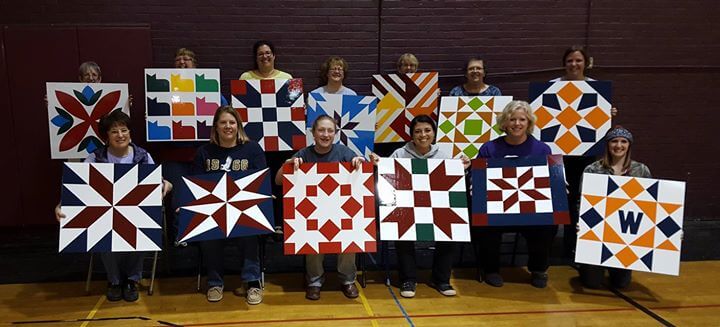 Due to the health concerns regarding public gatherings this particular class session has been canceled.  At this time we are still planning on holding our other sessions.
Paint a customized 2' x 2' barn quilt on exterior grade aluminum.  Select your design from our Catalog. We draw the design and you paint it in any color(s)* that you pick the day of the class using high gloss professional grade sign painters lettering enamel.  No skill required!!!  Anybody can do it.  The sign is lightweight and can be hung inside or outside without any further treatment.
PRICING AND CLASS SIZE:  Classes are limited to 24 people.  $50 per person.  Additional charges for custom lettering or designs.  We provide all the supplies.
HOW TO SIGN UP:   First come first served!   Classes fill up fast!!  Submit the Registration Form on BARNS & BREWS webpage (www.barnsandbrews.com) with your name, email address, date of class you would like to attend, and your design choice.   You will be notified in 24-48 hours if your spot in the class is confirmed.  If the class is full, you will be notified via email.  If you do not receive a confirmation email, feel free to email (info@barnsandbrews.com) or text Deanna (319-560-6789).  You do not have a confirmed spot until you receive a return confirmation email.  We apologize if you cannot get into a class.  We are scheduling as many as we can to fit everyone in.
HOW TO PAY:  Bring cash or check the day of the class.  We cannot take cards at this time.  Be sure to confirm and pay for any customizations at the beginning of the class.
WHAT TO BRING:  All you need to bring is your creativity and a beverage of your choice (alcoholic or non).  Be sure to wear painting clothes or smocks. This paint does not wash out!
DESIGN SELECTION:  The current catalog is located on the BARNS & BREWS Facebook page and on the BARNS & BREWS web page.  On the Facebook page, it is located on the main feed or in the PHOTOS section under the Album entitled CATALOG.  Each design has a number.  The catalog shows different variations of a single design.  We only need to know the number of the design you like.  We can make the variations the day of the class.   Submit your design choice on the BARNS & BREWS web page using the required Registration Form as soon as possible to reserve your spot.  Colors are selected the day of the class.   We periodically post new designs on our FB page.  These can also be painted in the class even if they aren't in the catalog yet.
Each design will have a difficulty designation:
(E) = Easy          (I) = Intermediate     (D) = Difficult
Intermediate = Includes curved lines to cut and/or some color-next-to-color freehand painting.
Difficult = Includes lots of curved lines to cut and/or lots of color-next-to-color freehand painting.
*COLOR SELECTION: When picking your colors, keep in mind that due to the drying time of the enamel paint and the process we use to paint the signs, it is best not to paint color next to color.  Color-next-to-color painting requires a steady hand and freehand painting. The colors may run and bleed into each other. Therefore, it is best to keep white space between each color.  There are a few designs in our catalog with some color-next-to-color painting which takes a steady hand, but the majority of them are easy enough for any novice.
MOUNT VERNON PRIVATE PARTIES:  Private parties located at the Mount Vernon Community Center can be scheduled with a minimum of 12 people.  The parties can be held at the Mount Vernon Community Center for a $45 room rental.  If you want a private party at the Community Center, you pay the $45. You can bring snacks and drinks (alcoholic or non). If you do not have 12 or do not want to pay the $45 room rental for a private class, we can open up the class to the public to fill the empty spots up to 24 people and we will pay the $45 Community Center charge.
"AWAY" PRIVATE PARTIES:  Minimum Class Size.  For private "away" classes, we have different minimum class sizes depending on how far we have to travel.   Minimum of 14 people.   If we do not have confirmed registrations 1-2 days before the class, we will have to cancel the class.   We can do a class up to 24 people.   If you think you could get more than 24, we would be willing to do back-to-back classes in one day.   Location, Tables and Chairs.   We must have a place big enough for your minimums. We need one six foot table for every 2 people. A class of 24 would require 12 tables.  Class of 14 could require 7 tables. Plus one additional table for our paints and supplies.   We ask that you provide all the tables and chairs.   We bring everything else.   Price. $50 per person plus a surcharge for gas and our extra travel time,.   $5.00 extra per person for away classes up to 50 miles away with a minimum of 14 people / $10.00 extra per person for classes 51 to 100 miles away with a minimum of 20 people / $15.00 extra per person over 101 miles with a minimum of 24 people.   If you want to keep cost down for the guests, we have had some hosts pay the extra travel costs themselves.
CUSTOMIZATIONS:   Some customizations hand painted and/or designed by Hugh can be done with pre-approval.  Minimal customizations such as the addition of a hand painted letter on Designs # 10 or #13 is an additional $10 charge.  Custom designs not included in our catalog can be done if approved by Hugh for an additional $15-$20 as long as they do not have a lot of color-next-to-color painting and can be drawn to work with the BARNS & BREWS process.  Submit any customizations with your design choice when reserving your spot using the Reservation Form on our Classes page.  We will confirm in your return confirmation email whether or not the customizations are approved.
CONTACT:  If you have questions, please Contact Us via our BARNS & BREWS Facebook page or webpage   Or text or call Deanna (319) 560-6789.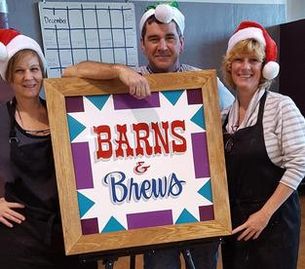 BARNS & BREWS team consists of Hugh, Jean and Deanna.   The creation of BARNS & BREWS is based on the talents of Hugh.  Hugh is a self-employed sign painter and pinstriper. He is incredibly talented and his work is well known.
Jean is Hugh's wife and works as a nurse.   Deanna is a long-time friend and works full-time at a law firm.
In 2015, Deanna and Jean finished a weekly pottery class and just weren't ready to quit being creative.  We gathered a few friends and started monthly craft nights.  When it was Jean's turn, Hugh came up the concept of painting barn quilts.  Hugh paints barn quilts for sale but developed the BARNS & BREWS method so that all of us could paint a beautiful barn quilt.
Over the summer of 2015, Hugh, Jean and Deanna tested the BARNS & BREWS concept with friends and family.   We quickly realized we had something fun and special.