Live Music – Kevin Burt – Heartland and Soul
November 16, 2019 @ 7:30 pm
$20 – $50
Iowa-based Kevin Burt's vocals, blues songwriting and music arrangements are absolutely amazing – extremely powerful, rich, warm, expressive and exploding with SOUL!
For more than 25 years Kevin Burt has been electrifying audiences throughout the Midwest dispelling the myth that true blues has no roots in Iowa. His soul-inspired presentation is unique which consistently get him compared to a range of artists like Bill Withers and Aaron Neville, with the ability to build an audience rapport that has been compared to B.B. King.
Kevin is a self-taught musician (vocals, harmonica, and guitar) whose smooth, warm vocal presentation sets a mood of relaxed exhilaration, with a welcome mixture of serious music and infectious humor audiences of all ages seem to enjoy. His voice and presence are powerful. His unique delivery ranges from the sweetest, fullest, juiciest come-on to the most playful growl.
He is a 2018 International Blues Challenge Winner in 3 categories:  1st place Solo/Duo, best Solo/Duo guitarist, & best Harmonica Player award.  Recently also a 2019 Blues Music Award Nominee for Debut Album.  This Waterloo and Mount Pleasant kid's head is not turned, however, and he's a deep and wide supporter of Iowa music, musicians, and music education.
Kevin's talent, character (and luck, he would tell you) have taken him to the top of the industry. His new Heartland and Soul album was recorded with the nationally known top sidemen. D'Mar Martin on drums, Jon Otis (Johnny Otis' son!) on percussion, and the bassist to the stars, Jerry Jemmott! Grammy award winning Jemmott is a true living legend, playing on so many timeless soul, blues, & jazz classics, from B.B. King's "Thrill Is Gone" to Gil Scott Heron's "The Revolution Will Not Be Televised" to Aretha Franklin's "Think".
Kevin is also recognized as one of the Midwest's top blues heritage educators. Governor Chet Culver gave this honor to him in February '09. Kevin is a registered artist, and artist educator with the state of Iowa Arts Council. He has also written and published a classroom harmonica method book called "Just Play It: an introduction to blues harmonica." His approach is simple: education through entertainment. His program has been going strong since 1994. Kevin continues this work as well as his community work with children and the arts.
Kevin performs between 325 and 400 shows a year, and he holds nothing back night after night and audiences love that – and they return again and again for more!
Burt is a serious songwriter who knows how to craft music to fit his personality, and no one delivers this brand of music better than he does. After listening to Heartland and Soul, one should have no problem seeing why he took all the top honors at the blues competition – this guy is a real winner. –  Living Blues
In this day and age where celebrity status is often conveyed on people with little discernible skills or talent, it is refreshing when the spotlight finally lands on someone who has worked hard, paid their dues, and actually deserves recognition for their talent. Such is the case with Kevin "B.F." Burt, the singer and multi-instrumentalist who created quite a buzz on Beale St. in Memphis during the first three days of this year's International Blues Challenge, winning 3 awards !! – 1st place in the Slolo/Duo category, the Cigar Box Guitar Award for best guitarist in Solo/Duo category, and the Lee Oskar Award for best harmonica player!" – Mark Thompson, BLUES BLAST MAGAZINE
---
Tickets
$20 Gen. Admission/$50 VIP Seating/Student $5. Door or via the web – https://kevinburt.bpt.me
Questions:  Call  Nancy Emrich Freeman, 518-576-9513
---
Kevin Burt's Website
For further information, high-res photographs, interview arrangements, contact Nicole Brown Burt Via Facebook; or Nancy Emrich Freeman by text or phone, 518-576-9513.
---
LilFest Music Series at the Uptown Theatre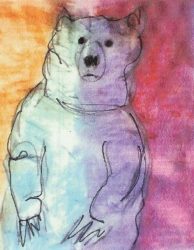 The LilFest Series brings world quality performances to intimate concert settings which are best for both the audience and the performer. Kevin Burt follows in the footsteps of performers like Freebo, Ellis Paul, Tim Grimm, Phil Heywood, Radoslav Lorković, Claudia Nygaard, Chuck Mitchell, Dave Moore, and Suzie Vinnick.
LilFest brings extraordinary music into an intimate setting, with an opportunity to meet the musicians, hear a great performance, listen, laugh, have a memorably musical evening.
Re-use or buy an Uptown Theatre sippy Cup ($5) from the Uptown Theatre, fill it with your beverage of choice, and stroll right in.
**  Audience members are invited to reserve an early dinner before the concert at the Palisades Café, mention LilFest, and receive the evening's LilFest special.  **