Friday evening, September 30 beginning at 9 pm, come listen and dance to 'The Stompers' performing in the Gym of the First Street Community Center.
The Stompers band are Iowa's Rock and Roll Music Hall of Fame recipients and the 2016 Alumni Association's Community Impact Hall of Fame winners. Playing 60s music that all ages will enjoy!  After the Homecoming Game, come have some fun and listen or dance to some of The Stompers members playing right here in First Street Community Center's gym where they will be playing.
Open to all, no charge.
---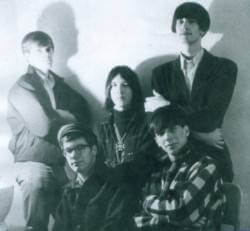 ABOUT THE STOMPERS
The Stompers band, with members Bill Bauman'66, Steve Edwards'65, Brian Harman'69, Greg Harman'65, and Randy Harman'68, are this year's Community Impact recipients.
Jo Clark'64 says in her nomination "Before there was a Mount Vernon High School Alumni Association, there were the Stompers. This group of MVHS graduates is more than a senior citizen high school rock 'n' roll band. The Stompers have served as a bond between Mustangs since 1963. The Stompers returned to Mount Vernon every fall for over twenty years, bringing people from all over the United States for their performances. Classmates who hardly knew each other in high school often become friends at a Stompers Reunion Concert. The music is important, but not the most important thing in these gatherings. The spirit and camaraderie of the room trumps all. The Stompers will tell you they don't sound like they did in the 60s, but you never hear anyone complain. To many of us, it's almost like a fall evening at Manny's Corner on Main Street in 1963."
From 1963 to 1965, the Stompers stomped. These boys from Mount Vernon toured Eastern Iowa ballrooms, Danceland in Cedar Rapids, DanceMor in Swisher, and more. It all started at Manny's Corner, an little pizza parlor, just down Mount Vernon's Main Street from Cornell College. Friends grew to crowds, grew to lines on the sidewalk. As the British invaded, The Stompers grew their hair long. They wore tight pants, ankle boots, and turtleneck sweaters. They sang and screamed and duck-walked across the stage like animals.
Their performances at Manny's Corner put them on the Eastern Iowa map. Before long, The Stompers had gigs every weekend and on many week nights. They earned $100 to $150 per performance. Their original song 'I Know' made it to the local airwaves. Girls screamed at every venue. The Stompers fronted the likes of The Animals, the Everly Brothers, and Chuck Berry.
"I Know" gained a notoriety long outliving the band. "I Know" made it as high as #19 on a number of regional charts. In recent years, "I Know" has surfaced on garage-band-loving stations and is considered by many a collector's item and has been featured on EBay and on-line garage-band forums such as GaragePunk.com.
The summer of '65 brought the release of a second record "You're Gone" by Greg that peaked at #24 on regional charts
In '69, Steve, Greg and Randy along and with young brother Brian Harman joining the band, opened a show for The Paul Butterfield Blues Band at Vet's Coliseum in Cedar Rapids. This turned out to be the precursor to a series of annual reunions.
In 2006 The Stompers band was inducted in the Iowa Music Hall of Fame.
Here's some YouTube "videos" with their music:
---
This event is brought to you by:
---
[wysija_form id="4″]