2 Ukulele Workshops and a Live Concert
August 4, 2019 @ 2:00 pm

-

6:00 pm

$20 – $25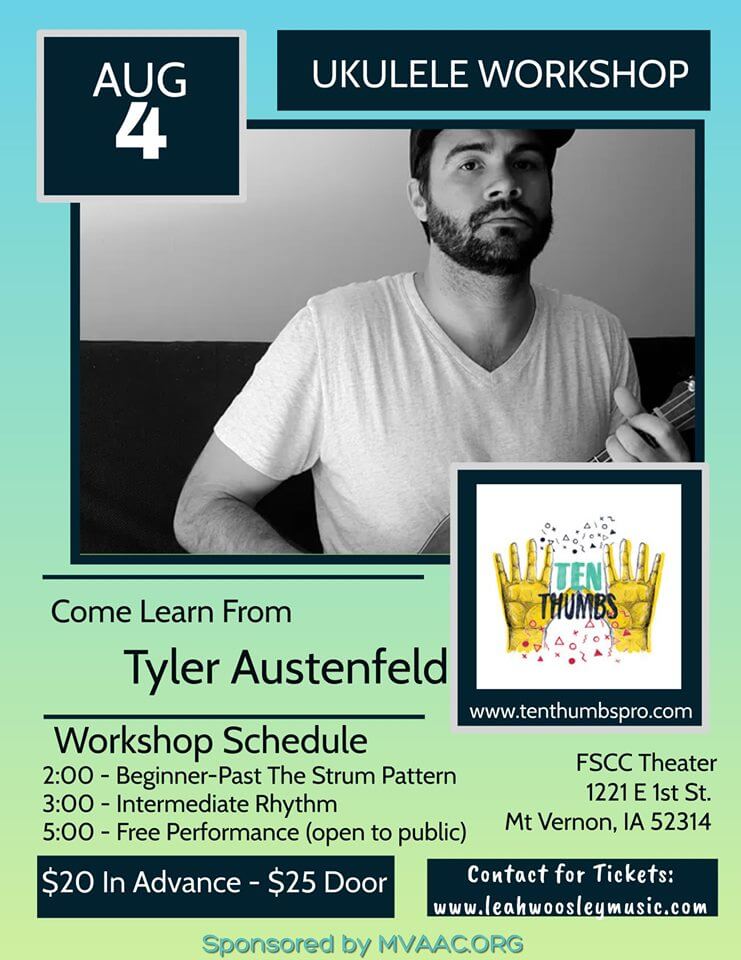 Leah Woosley Music has arranged for YouTube sensation and online instructor Tyler Austenfeld to stop in Mount Vernon, Iowa and teach 2 ukulele workshops.  You can learn more about Tyler at his website: TenThumbsPro.
The first workshop, @ 2pm is Beginner- Past the Strum Pattern, is geared towards beginners, so if you have a uke and just started playing or have been wanting to learn, this will be great for you!
The second workshop, @ 3pm is Intermediate Rhythm, this will be perfect for more advanced beginners/ intermediate players.
The FREE concert will follow starting at 5pm and is open to the public.
Cost:  Tickets are $20 when paid in advance or $25 at the door.  The ticket price includes both workshops.
*  For tickets before the event – email leahwoosleymusic@gmail.com
Showtime:  Stick around after the workshops for a performance at 5:00 pm – Leah will be the opening act, and then Tyler will take over. This performance event is open and free to the public (however a suggested $5 donation would be greatly appreciated).
More information can found about the workshops here.
This event will be held in the First Street Community Theater, Mount Vernon, Iowa
---
More info about each workshop session (written by Tyler)
Beginner Level Work Shop – Past the Strum Pattern
This beginner level lesson is designed to help beginners learn how to count music and how it relates to the strum pattern. It starts with half notes, than quarter notes, eight notes, and lastly 16th notes. Each is provided with strum patterns of the down up equivalency. This is dedicated to beginners looking to level up to the pre-intermediate and/or intermediate level.
Will improve your
Ability to count music
Ability to strum a ukulele
Ability to create your own strum pattern
Ability to analyze a songs strum pattern
​Intermediate Rhythm Past the Strum
In this lesson we attempt to explore some of the Ukulele's more interesting rhythmic aspects. It explores different rhythmic concepts that I have gathered over the years.
Will improve your
Jimi Hendrix Style A Shape Fills
General Fingerpicking Ideas
The 6th interval as a rhythm tool
Double stop rhythm
Chord Fragment Rhythm – Riffs for rhythm
---
This event is brought you you by Leah Woosley Music and the Mount Vernon Area Arts Council