Live Music – Frances Luke Accord – Modern Folk & More – Tuesday, May 10th
The First Street Community Center in Mount Vernon, Iowa is pleased to announce that Frances Luke Accord will headline the Uptown Theater on Tuesday, May 10th at 7:30pm.
NOTE: Ann Arbor-based singer/songwriter Chris Dupont will open the show.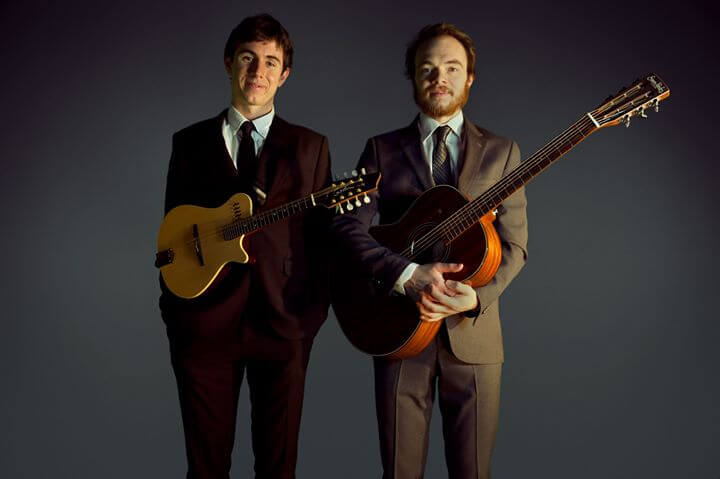 These dynamic performers will be presenting a family friendly "all ages" show.  YouTube videos of each group are at the end of this article for you to listen to and hear just how talented these musicians are.
Doors open at 6:30pm, with the show starting at 7:30pm.
Tickets: $10 advance/$13 at the door.
You can purchase tickets in advance online here
Artist websites:
Frances Luke Accord: http://franceslukeaccord.com
Chris Dupont: http://www.chrisdupontmusic.com
About The Artists:
Frances Luke Accord is an independent Chicago-based duo hailing originally from South Bend, Indiana. Both dedicated multi-instrumentalists and attentive songwriters, Nicholas Gunty and Brian Powers distinguish their music with genre fluidity, organic acoustics and buttery harmonies. Although prevailingly a modern folk band, FLA sips copious inspiration from Americana, jazz, soul and rock.
Since forming during their senior year at the University of Notre Dame, Frances Luke Accord's multifaceted, genre-bending approach to music has marked a boundless evolution. In December of 2012 the duo released their first record, Kandote, a not-for-profit, intercultural collaboration with the Barefoot Truth Childrens Choir of Kkindu, Uganda; an endeavor that continues to support the primary education and musical aspirations of the choir. Bringing their newfound appreciation for world/folk music to the bustling urban epicenter of Chicago in the summer of 2013, the duo has quickly garnered increasing local and regional attention for their captivating live performances and stunning self-produced releases, including the Queen for Me EP (April 2014), Veronica (October 2014), and Live @ Strobe (April 2015).
Frances Luke Accord's music can be described as dreamlike and philosophical, haunting and whimsical. Their melodies evoke a noir film, a Spanish folktale, an enigmatic egoeye. However you pin it, something in the music is turning heads. Whether evidenced by their artist endorsement with Godin Guitars or recent $16,294 Kickstarter campaign to fund their debut full length album, Fluke (due out May 20th, 2016), Gunty and Powers' compositions take the listener by the ear, pull the rug from beneath her feet, and leave her deliciously airborne. Listen.
What The Critics Are Saying:
'While Simon & Garfunkel may be no longer touring, Powers and Gunty are more than talented enough to take their place.'

– Quinn Delaney, PlaylistHQ
Frances Luke Accord gave a stunning show. They are consummate musicians, with an endearingly charismatic stage presence. Their songwriting ranges from ethereal soundscapes to engaging pop folk, all performed with unerring, sensitive and expressive vocals.

One never looks at the clock during their performance. In fact, time seemed to speed by with our audience crying out for not one but two encores! Like fine wine, this duo is only going to improve with age. Dont miss the chance to catch them on their rise up.

– Sandra Thompson & Sam Tuthill, Acorn Theater
---
About Chris Dupont:
A letter arrives in a handmade envelope…
I've been to hell and back again, it says. Thank you for inspiring me, and helping me achieve a sense of peace that years ago I thought would never happen.
Letters like these tend to find Ann Arbor-based singer/songwriter Chris DuPont. His ruminations on inner peace and personal growth infuse his newest album, Outlier.  Faced with the new challenge of becoming a father, DuPont bares his own difficulties with family and his own sense of belonging.
Full of his trademark vulnerability and candor, Outlier is a confession and an absolution in one.
With influences ranging from classic American songwriters like James Taylor and Tom Waits, to artists like Tycho and Philip Glass, DuPont's sophomore effort has its roots in folk music, and its branches spreading wide across conventional genre divides. In Outlier, the classic eloquence of the 70s collides with a present-day catharsis; classic Americana themes become married to contemporary notions of self-care, and speaking your own truth. Throughout the whole work, DuPont's focused baritone remains a constant, bringing a steadiness and reassuring cohesion in the midst of the albums at-times heavy themes.
Outlier wades deep into DuPont's head. It is simultaneously loud, soft, angry, forgiving, danceable and upbeat, cinematic, sweeping, and immersive. His inimitable guitar style incorporates techniques from a wide array of disciplines, including body percussion, harmonics, and looping.
Chris is endorsed by Godin guitars.
Chris was a finalist at the Rocky Mountain Folks Festival in 2013, and has shared stages with a host of Midwest acts, as well as national acts Edwin McCain, Brendan James, Needtobreathe, and Lucius.
---
Here are some videos posted on YouTube of these talented performers:
[wysija_form id="4″]