Shop Local on Small Business Saturday

There's always something going on at the First Street Community Center in Mt. Vernon, Iowa!
This holiday season is going to be very exciting. Many of the shops are open extended hours this weekend (check their directory listing), there are numerous special events being held, and of course don't forget to shop local on "Small Business Saturday" right here with the Old School Shops of First Street Community Center.
Here's a sample of special events this holiday weekend, there may be more that I'm not aware of so stop over anytime to check us out!
---
Make a Memory:
Saturday, November 29th, from 10am – 4pm in the gymnasium. FREE Holiday Photo (5×7 print) of you, your pet(s) or your family!

Every dog and cat who comes in will have a chance to make the 2015 Zoe's Pet Deli Calendar!  You can vote for your favorite photo on Zoe's Deli's Facebook Page.
This event is sponsored by:
Zoe's deli – Natural Foods for the Pets We Love
envisage Studios – Photography & Design
Cedar Valley Humane Society
---
Grand Opening of Fairy Under A Full Moon:
Saturday, Nov. 29th, 10am to 4pm, during Small Business Saturday.
We are thrilled to announce a new shop in the First Street Community Center in Mount Vernon, Iowa: Fairy Under A Full Moon, they are located on the first floor, Southwest corner of the building, adjoining Ruth's Room.
As a part of this special Grand Opening event they are offering 10% off all items including items from Ruth's Room and Fairy Under A Full Moon.  As if that wasn't exciting enough, you can register to win a $25.00 Gift Certificate also!
---
Face Painting and Holiday Crafts:
Saturday, November 29th, from 1pm – 4pm in the Library.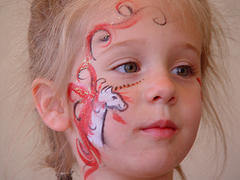 Throughout this holiday weekend there will be Drawings, Prizes, and Local Holiday Treats available at various locations within the building.
---
All of this is brought to you by these great stores:
Envisage Studios, Lisa Lewis
[jetpack_subscription_form title="Get the Latest News!" subscribe_text="Enter your E-mail address to receive News articles automatically." subscribe_button="Sign Me Up!"]
For more information about other events coming up at the First Street Community Center check out our Events page.
---
Media Attribution Follows Below This Line:
"Happy Thanksgiving by the SuperStar" – Photo by theSuperStar
Dog and Cat – "Studying" – Photo by fazen
"Face Paint Unicorn" – Photo by Kris Krug