Live Music – Frances Luke Accord – Modern Folk/Americana
The First Street Community Center of Mount Vernon, Iowa is proud to announce that we will be hosting live music performances by two great groups, Frances Luke Accord and Undlin & Wolfe on Saturday, May 6th 2017.

TICKETS
Are only $15 and can be purchased via Facebook, at Bauman's and in person at the concert.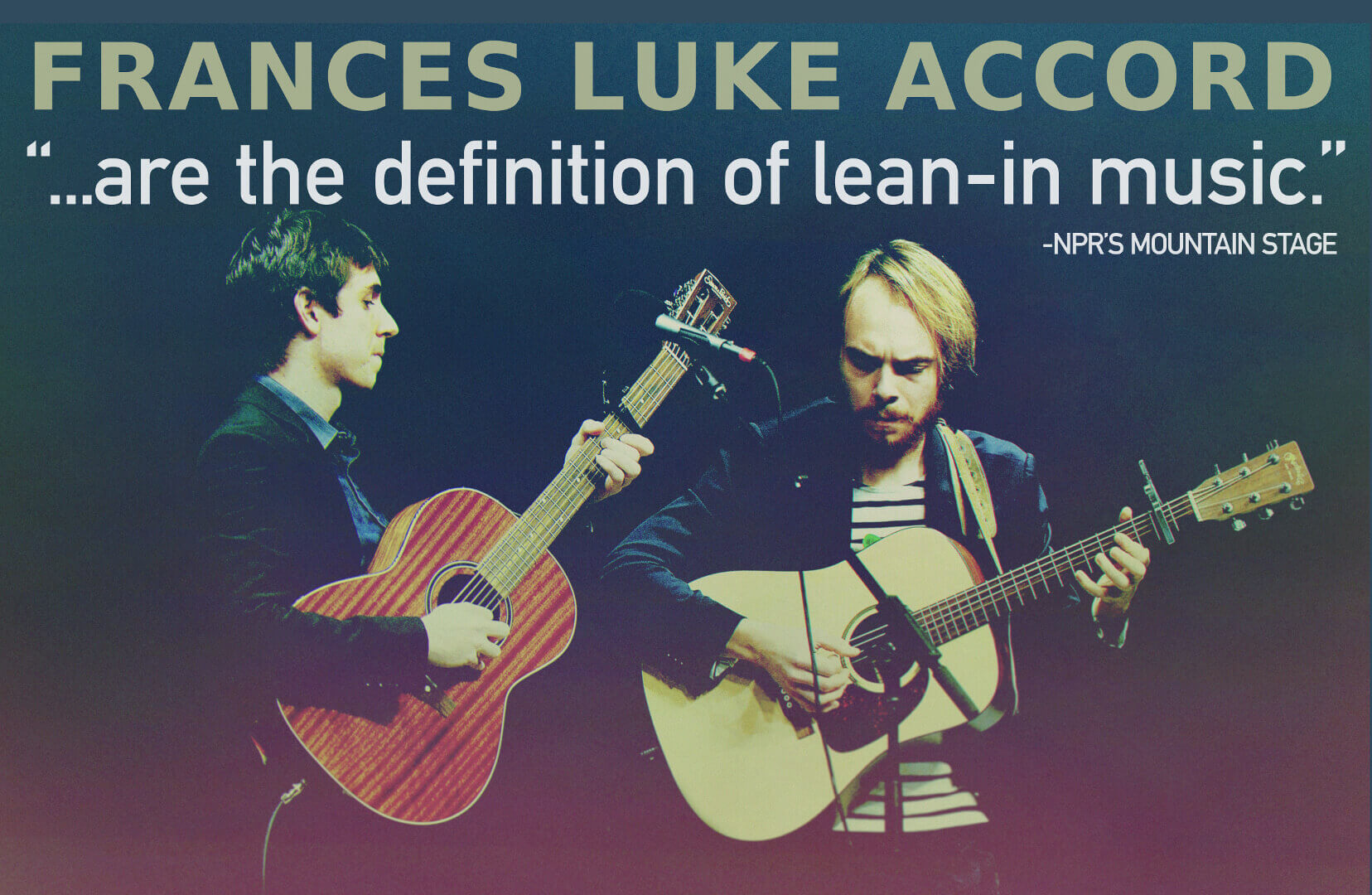 Frances Luke Accord are an independent Chicago-based duo hailing originally from South Bend, Indiana. Both dedicated multi-instrumentalists and meticulous songwriters, Nicholas Gunty and Brian Powers distinguish their music with genre fluidity, buttery harmonies and acoustic ensembles.
Although prevailingly a modern folk band, FLA sip copious inspiration from Americana, jazz, soul, and rock.
Since forming during their senior year at the University of Notre Dame, Frances Luke Accord's approach to music has marked a boundless evolution.
In December of 2012 the duo released their first record, Kandote, a not-for-profit, intercultural collaboration with the Barefoot Truth Children's Choir of Kkindu, Uganda — an endeavor that continues to support the primary education and musical aspirations of the choir.
Bringing their world/folk sound to Chicago in the summer of 2013, the duo quickly garnered local and regional attention for their captivating live performances and stunning self-produced releases, including the Queen for Me EP (April 2014), Live @ Strobe (April 2015), and, most notably, their debut full-length album, Fluke (May 2016).
"Frances Luke Accord are the definition of lean-in music." – Joni Deutsch, NPR's Mountain Stage

"Frances Luke Accord are some of our very favorite musicians, songwriters, and people. We couldn't recommend their debut LP, Fluke, highly enough."- Darlingside

"While Simon & Garfunkel may be no longer touring, Powers and Gunty are more than talented enough to take their place." –Quinn Delaney, PlaylistHQ
---
Also performing are Undlin & Wolfe.   They are an alternative folk group whose songs whistle straight through your down-jacket to shatter the northern-most corner of your heart before melting it completely.
"Earnest and intimate, sparse yet smart, and you can feel its ancestry in the odes to northern life, whether it's the woods of the Midwest or the winds of Reykjavik"
— Invoke Magazine

"Their stripped down folksy duo sound is gripping. There's something just smart and evocative about the style."
— Ear To The Ground
[wysija_form id="4″]