Radoslav Lorkovic & T. Bruce Bowers presented by LilFest
Live at the First Street Community Center in the Uptown Theatre, LilFest presents:
Radoslav Lorkovic & T. Bruce Bowers – Americana Folk Power Duo
Monday, December 14, 2015 at 8pm.
(Doors open at 7:45 pm)
Suggested Contribution is only $15!
This event is BYOB with purchase of an Uptown Theatre Cup, or bring an Uptown Theatre cup you already own (with the lid please).
"Music with a fiery kind of cool! Obsession and passion are concepts that Radoslav Lorković fully understands. But in his case, they're often tangled up in a single instrument: the piano."  – Michael Granberry, Dallas Morning News
An Iowa City native, Radoslav Lorkovic's keyboard talent has taken him to dizzy-ing heights.  His latest musical adventure is a duo with the like-Rad-ically talented T. Bruce Bowers, a multi-fiddlist from Northern Minnesota. This is a reprise of the 2014 Winterthur (tour).
At this concert you can expect an exciting night of music featuring many styles and genres:  blues, country, New Orleans, R & B, rock, and more!
Drawing from a multitude of influences ranging from elegant classical and jazz styles to the rawest, most basic blues, country and soul, Radoslav Lorković has taken on an unusually broad musical spectrum and refined it into his distinctive piano style.
His tenure on the R&B and folk circuits has culminated in five critically acclaimed solo recordings and numerous appearances on the recordings of and performances with artists including Odetta, Shawn Colvin, Jimmy LaFave, Ribbon of Highway Woody Guthrie Tribute, Greg Brown,Richard Shindell, Ellis Paul, Ronny Cox, Dave Moore, Andy White, and Bo Ramsey.  His thirty-year touring career has led him from the taverns of the upper Mississippi River to the castles of Italy, The Canary Islands, The Yup'ik villages of Alaska, The Kennedy Center and Carnegie Hall.
Born in Zagreb, Croatia in 1958, Lorković's initial exposure to music can be attributed to two grandmothers. Antonija, his maternal Grandmother, sang to him Croatian, Slovenian and Czech. Classical music played in the home constantly due to the influence of his paternal grandmother Melita Lorković, an internationally renowned classical pianist.
Radoslav moved to the Iowa at age six. Lorković began touring at age 20 with Bo Ramsey and the Sliders. Lorković entered the band having mastered the styles of boogie-woogie greats such as Albert Ammons, Pete Johnson, Freddie Slack etc.. Ramsey's influence drove Lorković deeper to the core of the blues. The music of Howlin' Wolf, Muddy Waters and Little Walter shifted Lorković's focus. Lorković and Ramsey joined forces with Greg Brown adding musical authenticity to his deep Iowa Roots.
Lorković currently tours the world regularly appearing at prestigious events such as the Woody Guthrie Folk Festival, WOMAD, Winnipeg, Calgary, Edmonton and Ottawa folk festivals, Falcon Ridge Folk Festival, Mountain Stage, Prairie Home Companion, eTown as well as a litany of Italian castles and villas.
T Bruce Bowers was born in San Antonio, Texas, and has been playing professionally since 1968. Bowers has written over 20 film and television scores. Five of his scores have won awards, including "Beneath the North Atlantic," which was nominated for an Emmy.
Bruce has performed with musicians of many different styles, including Taj Mahal, Queen Ida, the Dixie Dregs, Ed Bruce, Prudence Johnson, and Pat Donahue. Bruce is a founding member of the Lake Superior Big Top Chautauqua Blue Canvas Orchestra. He was bandleader from 1988 to 1994, and has been active in the creation of the style and quality of the Blue Canvas Orchestra since the beginning.
Questions?  Call: 847-256-0000. For further information about this event, check out the Facebook event page.
---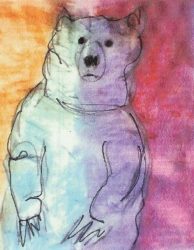 For more information about LilFest or these performers:
http://www.LilFest.org
http://www.RadoslavLorkovic.com
http://www.TBruceBowers.com
---
[wysija_form id="4″]