LILFEST PRESENTS: The Malvinas – a folk trio with a seriously original sound
Performing April 5 @ 7:30 pm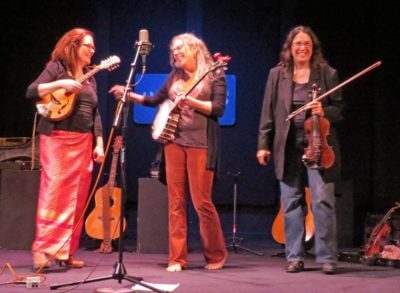 With roots all over North America The Malvina's are a feminine and feminist FOLK trio with a seriously original sound. They are Gina Forsyth, Lisa Markley, and Beth Cahill. Each a solo artist, they play guitar, mandolin, fiddle, banjo. They rock with killer harmonies and a veritable smorgasbord of contemporary and traditional compositions that have you coming back for more.
About their recent album "God Bless the Grass"
There is a distinct strength in women's music and they tap into it brilliantly. Women with wide ranging influences…The Malvinas are serious and playful, often in the same song…The title cut "God Bless the Grass" was written by the trio's namesake, Malvina Reynolds, in 1964. It is as poignant today as it was then with these lyrics: "God bless the truth that fights toward the sun."  One of the most fully realized folk albums of the first half of the year.
– Mark Gallo
Tickets
$5 Student / $20 Gen. Admission / $50 VIP Seating.  Purchase tickets online: https://malvinas.bpt.me or buy tickets at the door.
Questions? Nancy at 518-576-9513 or 3bearscottage@gmail.com or check out www.LilFest.org

General Information
A LilFest Concert is an intimate concert in a relaxed setting. Audience members bring beverages and snacks into the theatre with purchase of the Uptown Theatre venue's First St. Community Center Sippy Cup ($5)
Audience members are invited to reserve an early dinner before the concert at the Palisades Café, mention LilFest, and receive the evening's LilFest special.
Individual Malvinas members will be available for television or phone interviews and other press inquiries in advance of the show by calling or texting Nancy Emrich Freeman at 847-256-0000. Further information is available via the website: www.TheMalvinas.com